Command W7G Driver
Whoops!
You've found a product that we no longer carry. We appreciate your interest and encourage you to explore the rest of our site by clicking here. For help finding a similar product or other questions, please contact our customer service team.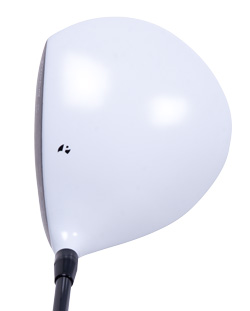 The Command W7G driver has a new look. Pairing a white finish with an oversize 460cc head gives players a big sweet spot along with a sharp look.
The driver features aerodynamic speed slots in the sole of the club to increase head speed which will improve distance.
As you may be aware, white has become a popular color in golf. There is a reason why clubs heads are being designed with a white finish: the white finish on the crown improves the visibility of the head and helps you align the driver off the tee, helping you hit more fairways and improve accuracy. Join the pros, get the newest advantage for your bag.
All men's drivers will include a Golf Pride Tour Wrap 2G White grip (pictured below) with unbelievable feel and performance.
More Command W7 Golf Clubs
Fitted standard with our low-torque Pinemeadow Limited Graphite Shaft for the same $89.95 value.
Compare features, performance and price to other white drivers in the market.
| Club: | 1 |
| --- | --- |
| Loft | 10.5° |
| Lie | 56° |
| Weight | 198g |
| Face Angle | 0 |
| Volume | 460cc |
Shaft and Grip:

Face Height:

50.8mm

Face Material:

Beta Titanium

Body Material:

100% Titanium

Finish:

White Top & Black Pearl Bottom
Art M rated this product

on 12/21/13 I played this driver for 2 months before submitting a review. I find the feel at ball contact to be dead. I have trouble getting both height and/or distance. In fact my son's clubs are the PGXs. I could always crank that 3 wood far better than the w7 driver. I drive my son's PGX driver much better than this one. Decent carry and trajectory. The joke may be on me because those 2 drivers look similar. For me, neither driver can hold a candle to a Callaway x-hot.
Lavella rated this product

on 08/15/13 Stiff flex not stiff enough
Avery rated this product

on 08/15/13 Very nice feel.