Command W7 Hybrid Set
Whoops!
You've found a product that we no longer carry. We appreciate your interest and encourage you to explore the rest of our site by clicking here. For help finding a similar product or other questions, please contact our customer service team.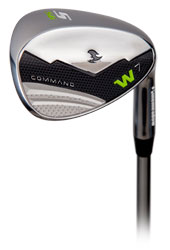 The Command W7 Hybrid Set brings together the forgiveness of hybrids and the control of irons to create a full range of clubs to dominate the course with. This combo set is designed to give you the perfect tools to attack the pin from any distance.
The W7 Hybrids feature white heads with attractive lime green accenting that look great in any bag. The white provides a great contrast on the fairway or on the range, allowing you to line up your shot with confidence. They also feature a wide sole that keeps the club stable through impact.
The irons continue with the lime green look, which is showcased in the forgiving cavity back design that pushes weight to the bottom and perimeter of the club. This improves the performance of the irons on the off center hits that we all have every once in a while.
Set also features a thin lined wedge (pictured to the right) perfect for chipping around the green and shots from the sand.
Put a set into your bag that will improve your game the instant they arrive on your doorstep.
More Command W7G Golf Clubs
Hybrids replace harder to hit lower irons improving playability.
Hybrid sets are quickly becoming the most popular set combos in golf.
The standard 3-PW set is sold with a hybrid 3 and 4 with the remaining irons as per usual.
Type of shaft on hybrids and irons are specified in the parentheses in the drop down menu.
Set includes FREE headcovers for all Hybrid clubs in the set you choose.
| Club | 3hy | 4hy | 5 | 6 | 7 | 8 | 9 | PW | SW |
| --- | --- | --- | --- | --- | --- | --- | --- | --- | --- |
| Loft | 20° | 23° | 27 | 31 | 35 | 39 | 43 | 47 | 56 |
| Lie | 60° | 60.5° | 60.5 | 61 | 61.5 | 62 | 62.5 | 63 | 64.5 |
| Weight (grams) | 248 | 254 | 256 | 263 | 270 | 277 | 284 | 291 | 300 |
| Offset (mm) | 0 | 0 | 4.8 | 4.5 | 4.2 | 3.9 | 3.6 | 3.3 | 1.5 |
Shaft and Grip: