Pre Bronze Wedge
Whoops!
You've found a product that we no longer carry. We appreciate your interest and encourage you to explore the rest of our site by clicking here. For help finding a similar product or other questions, please contact our customer service team.
The newest member to the PRE family. The wedge features a wide sole at the bottom of the club head which narrows towards the toe to provide a more forgiving hitting surface. Combine this proven shape and bounce design to provide accurate play from any lie. Features a bronze finish for a sleek look.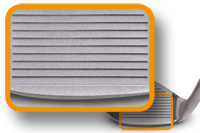 Club Face Image
Pinemeadow Nation, thanks for the feedback, here is the image you asked for. Our wedges, like most others in the marketplace today, feature "U" groove technology.
Custom build with a high quality Pinemeadow steel from Apollo®, a 125 gram shaft with a low to mid kick point for the same $24.95 value, perfect for the beginning to average golfer. Graphite is also available for $7.50 more per club.
Available in 56 and 60 degree loft.
Bronze Finish
| Club | SW | LW |
| --- | --- | --- |
| Loft (deg) | 56 | 60 |
| Lie (deg) | 64 | 64 |
| Weight (g) | 300 | 300 |
| Bounce (deg) | 12 | 6 |
Shaft and Grip:
Kurtis rated this product

on 01/17/14 Really nice clubs overall. I would buy them in a heartbeat. Unfortunatly, I'm returning mine because they weren't cut correctly. They were left at standard length when I order minus 1/2.
LouisH (VA) rated this product

on 11/12/13 I received my set of PRE wedges (52, 56, and 60) on time as promised by PM. The 52 is chrome the 56 and 60 are bronze. Let me just say that in appearance the chrome is "nice" but the 56 and 60 in bronze are absolutely gorgeous. (Would have ordered all in bronze but alas the 52 does not come in that finish.) Have hit all three and they all seem to play well (for me). The 52 has been the missing link in my bag and now I have the club to play full swing from 75 to 80 yards out. As stated in my review of the PRE progressive hybrids form, fit and finish is first rate. Thanks PM from a satisfied customer. PS, I have just ordered (today) the PGX putter and Courier bag tan/copper.
Ray rated this product

on 11/01/13 Where else can you get a brand new quality wedge at this ridicously low of a price? So glad I found this website!
Travis rated this product

on 07/13/13 Hit my first ball with this club on the golf course, this club is awesome! This is the first club I have owned that has been fit to me and it didn't disappoint.I would recommend this club to anyone.
Justin rated this product

on 04/24/13 I just picked this up to replace my old wedge. So far I love it. It really hits well. I got the 60 and am hitting it perfect on my short shots. PM does it again. Oh yeah it looks awesome too. Great Bronze color to it.