Pinemeadow PGX Putter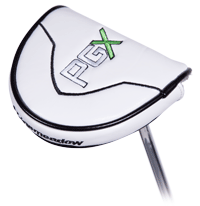 The putter features a precise white finish which stands out when the putter is in the address position on the green. This contrast of the white color against the green grass really helps maintain focus on the alignment lines that help ensure that your putter is on target at start.

At 380g the additional 40g weight of the mallet putter is "tour-weighted", suited best for the faster greens that are more and more common around the world. You'll also get a smooth forward spinning ball at impact with reduced skid giving you stability in your putting game.

White Nano Paint Disclaimer
The white color on this putter model is designed to enhance aim and improve vision clarity at address. Using a head cover is strongly recommended to protect the white finish from dings, scratches and other marks that come in contact with the head. Any cosmetic damage will not effect the performance of the putter nor is subject to warranty coverage.
Compare features, performance (and price) with Rossa® Ghost Putter at $159.
Includes custom headcover
| Club | Putter |
| --- | --- |
| Loft | 3 |
| Lie | 90 |
| Weight | 380 |
| Men's Std. Length | 34″ |
| Ladies Std. Length | 33″ |
Shaft and Grip:

Finish:

White

Custom Fitting Note:

The putter can't be built at +1.5" the longest the putter shaft will allow us to go is +1.
Displaying reviews 1 - 5 of 104 in total
David Shaw rated this product

on 07/02/19 Excellent putter, with one exception...all of a sudden, into my second season of use with this putter today, on center contact with the ball, there was a noticeable change in sound (as if the insert came loose) and function (ball reaction was weaker and inconsistent). I would have given this putter a 5 star rating otherwise. I am however, ordering a replacement of the same model, because that is how good the club is. I just hope I don't experience the same problem again in the future.
Karl rated this product

on 09/27/18 I received the new putter last Wednesday. I played with it yesterday and I love it... drained some clutch putts in a match and received compliments on the putter...I'm happy to promote your products.
Ron Porter rated this product

on 08/08/18 My former putter was a very nice Adams, which I've used for many years. FWIW, I've only had four putters in 45 years of golf. But, a coupla years ago, I changed my stance to be more upright, and with my long torso, my putter was at a 45 degree angle to the ground. I wanted a putter with a more upright angle, which the PGX has, and have the putter be flat against the ground. I tried numerous putters at Dunham's here in Michigan, and this putter was the best! It has worked GREAT in just one outing! Which is also ironic, as the rest of my bag is Pinemeadow clubs.. I have been using Pinemeadow products for about 10 years, and have been a very happy customer!
Eli rated this product

on 07/03/18 I received my putter last Friday and I absolutely love it! It looks, feels, and performs exactly the way I want it to. Thank you for an excellent product.
Newb Gingrich rated this product

on 03/09/18 the only reason this isnt a 5 star rating is because the ball pick up doesnt seem to work amazingly on my putter, I have to press down hard enough that I am concerned about bending the shaft. Other than that though, this is a great balanced putter for people who have a nice straight putting motion. It is on the heavier side so it takes a little time to adjust distance. High quality putter, and with all Pinemeadow products, the price is unbeatable.
Displaying reviews 1 - 5 of 104 in total