Pinemeadow Excel Monterossa Irons
Introducing the latest irons featuring the superior engineering of the Pinemeadow Excel line. The Pinemeadow Excel Monterossa irons blend tour inspiration with game improvement technology, designed for those players looking to take further control of their game.
The sleek radius of the sole and the varying face thickness creates an optimum launch trajectory that maximizes distance through added carry and roll. The slightly offset face offers golfers the ability to shape shots when needed, but still have forgiveness throughout your round.
More Product Info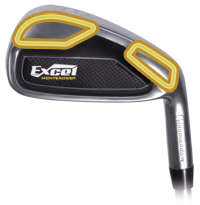 Performance Weighting
These irons are equipped with an offset perimeter weighted head, allowing us to create a forgiving iron suitable for players of all skill levels. As mentioned earlier, those who have the ability to shape shots will feel comfortable playing these clubs because of the way they were shaped and designed—tour performance look with a perimeter weighted feel.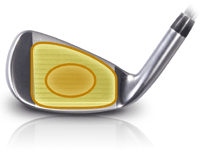 Playability and Performance
The design focuses on a traditional performance head shape featuring a tour top line, narrower sole, smaller head length and less offset. The mid-sized sole width gives you the flexibility to shape shots without sacrificing forgiveness yielding the ultimate shot shaping club. The undercut cavity and head length add to the forgiveness while improving stability of off-center hits. Overall, the Pinemeadow Excel Monterossa irons help your shot making ability and make iron play easier.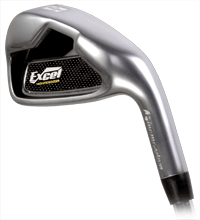 Made from Precision 431 Stainless Steel
Our exclusive "White Chrome" finish provides the Monterossa a clean look while maintaining a receptive soft feel at impact.
Built standard with a Pinemeadow Steel shaft from Apollo®, a 125 gram shaft with a low to mid kick point. Also available with our standard low-torque Pinemeadow Limited Graphite shaft for only $7.50 per shaft.
Set is available in a 5-PW, 3-PW and SW.
Compare features and performance to Callaway® Diablo Irons.
| Club | 3 | 4 | 5 | 6 | 7 | 8 | 9 | PW | SW |
| --- | --- | --- | --- | --- | --- | --- | --- | --- | --- |
| Loft (deg) | 20 | 23 | 25 | 28 | 31 | 35 | 40 | 45 | 56 |
| Lie (deg) | 60 | 60.5 | 61 | 61.5 | 62 | 62.5 | 63 | 63.5 | 64 |
| Offset (mm) | 5.7 | 5.3 | 4.9 | 4.5 | 4.1 | 3.7 | 3.3 | 2.9 | 1 |
| Weight (g) | 242 | 249 | 256 | 263 | 270 | 277 | 284 | 291 | 298 |
| Bounce (deg) | -1 | -1 | 0 | 2 | 3 | 4 | 5 | 6 | 10 |
Shaft and Grip:

Body Material:

431 Stainless Steel

Finish: White Chrome
Displaying reviews 1 - 5 of 44 in total
Bob Miller reviewed this product on 08/01/17 Been having these clubs for one year with no complaints. The only thing happened was a label came of 9 iron they sent me a new club pronto. My second set from pinemedow . Would not hesitate to buy again.
fred west reviewed this product on 07/05/17 The money I saved on this iron set of irons I used on golf lessons that helped me more than a set of name brand irons . I have had this set for several years now and strike the ball as well with these as I do with the name brand irons.
Marty H. reviewed this product on 09/28/16 This is a 5 year follow up review. Hard to believe that it has been 5 years, but these irons continue to suit my needs just fine. Not a single complaint about them at all. I play only about 20-30 rounds a year, but over time that adds up. These irons have proven to be durable, but I'm pretty meticulous about keeping them in nice shape. They still have the original Pinemeadow grips, which are still"grippy", and show no real signs of wear. I still beat my playing partners that play big $ sticks (and they buy new ones every couple of years!), but that's their problem! Long story short, I love these irons and won't need to replace them anytime soon.
Bridget reviewed this product on 05/17/16 Yes, I did receive the clubs last week, and got out to the range this weekend. They are awesome! I instantly gained about 20 yards over my old beginners set. I was inspired to buy them because my husband also got a set recently, and I loved how they felt. I'm very happy with this purchase.
Eric reviewed this product on 04/25/16 I just recently got these irons to replace my Pinemeadow Command BK set that was almost 10 years old. I upgraded with graphite shafts, and the lamkin mid-sized grips. I don't lack the strength to hit the ball far, but I lack the skill to strike the ball squarely with the speed required to hit the ball far. The graphite shafts help with this and have me hitting my 7-iron straight as an arrow 150 yards. The perimeter weighting on these will allow me to shape shots with more practice but for now I'm happy hitting the ball nice and straight. Off the tee my 3-Iron has a consistent draw that I can use on dog legs to the left, and other than that the rest of the clubs hit straight off the tee as well. Another reason for the graphite is that I only play a few times a year but every now and then my friends want to play 36 holes, and with steel shafts I'm usually pretty sore after these sessions. These are great clubs at a great price. I doubt I'll ever buy a set of name brand clubs.
Displaying reviews 1 - 5 of 44 in total