Command W7 Driver
Whoops!
You've found a product that we no longer carry. We appreciate your interest and encourage you to explore the rest of our site by clicking here. For help finding a similar product or other questions, please contact our customer service team.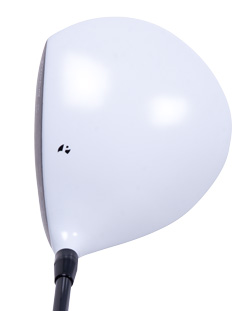 The Command W7 is the newest driver in our best-selling Command series. Pairing a white finish with an oversize 460cc head gives players a big sweet spot along with a sharp look.
The driver features aerodynamic speed slots in the sole of the club to increase head speed which will improve distance.
As you may be aware, white has become a popular color in golf. There is a reason why clubs heads are being designed with a white finish: the white finish on the crown improves the visibility of the head and helps you align the driver off the tee, helping you hit more fairways and improve accuracy. Join the pros, get the newest advantage for your bag.
All men's drivers will include a Golf Pride Tour Wrap 2G White grip (pictured below) with unbelievable feel and performance.

More Command W7 Golf Clubs
Fitted standard with our low-torque Pinemeadow Limited Graphite Shaft for the same $99.95 value.
Compare features, performance and price to other white drivers in the market.
| Club: | 1 |
| --- | --- |
| Loft | 10.5° |
| Lie | 56° |
| Weight | 198g |
| Face Angle | 0 |
| Volume | 460cc |
Shaft and Grip:

Face Height:

50.8mm

Face Material:

Beta Titanium

Body Material:

100% Titanium

Finish:

White Top & Black Pearl Bottom
Displaying reviews 1 - 5 of 40 in total
Irvin reviewed this product on 08/19/17 I see you don't monetize your site, don't waste your traffic, you can earn additional cash every month because you've got high quality content. If you want to know how to make extra money, search for: best adsense alternative Wrastain's tools
Dave Gardner rated this product

on 04/25/13 This is my last review on this driver. I did change the shaft to Aldila voodo shaft Reg flex (64 Years old).So I called a friend who works in the golf Dept. of a great chain store.I ask if he would fit me to a new driver.I hit them all, Callaway,hot , R1,and stage 2, ping g25 and about three more. I hit my W7 and he did the numbers and you will not believe this but the W7 out did every single one of the top names. spin rate launch and distance was better with this head. He looks at me and said if you want to spend 300 bucks no problem but you would be wasteing you money. That's it have a great golf day.
David Miller rated this product

on 03/21/13 After having received the replacement driver I can now say I'm very pleased with this driver. When making good contact, the ball will get good height and distance, equal to my buddy's Taylormade driver. I have an extreme slicing problem; but that's at my own fault and not the club's, as like I said before it will go the distance if hit straight. And the white is definitely a nice contrast to all the other black head drivers out there. Give it a shot, change the grip, the shaft, or whatever you feel you need to do to make it fit you, but once you get the feel of it you won't be disappointed.
John from Queens rated this product

on 03/11/13 Couldn't go wrong. Got it at 52% off and what they hey? I collected all of the W7 offerings thus far, may as well finish it off! I currently play a Callaway FT-IQ with the Fubuki R flex shaft. I hit it pretty well. Tee shots are the best part of my game. Today was my first day on the range with it. I hit it just as well as the callaway I'd say. Had to adjust a bit, not the best sound ever either. When I gave it all I had, I certainly bombed the shots. It definitely sliced right more than my other driver. That's partly why I gave it 4 stars HOWEVER I do acknowledge I may only need to adjust my swing a little more to fix it. Now, after the first shot I took I noticed there was a little squeaking sound coming from around the hosel. I grip a club by twisting it by the clubhead into my left hand to "lock" it in. I immediately noticed this sound and feeling like I had knocked something loose. I figured "Hey it's PM, they'll replace it. I'll keep smashing balls and see what happens." It didn't seem to affect the integrity or distance. I was still carrying 240-270 after the squeaky rattle, some of the shots sliced out right probably would've had even more. I'm not sure if I should get it replaced cause it's hitting OK. I do like it a lot though and for what I paid I'm happy with it.
David Gardner rated this product

on 11/20/12 Is this thing LEGAL? I order this driver with the inch and half longer shaft because I have been playing the long tom driver by corba. I can't believe this driver is 25 yard and some cases 35 yards longer than the long tom. I have a gps and I no how far my drive goes, this club is hot . I think what makes it so good is not that I hit it in the air longer but the roll you get with it man this thing just goes and goes.So I looked on the usga web site last night and I could not fine where it had been tested. SO ,,IS THIS CLUB LEGAL? Super club and the sound is great all my friends want to hit it and just say NO. lol
Displaying reviews 1 - 5 of 40 in total