Pinemeadow PGX Putter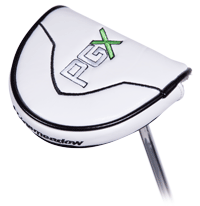 The putter features a precise white finish which stands out when the putter is in the address position on the green. This contrast of the white color against the green grass really helps maintain focus on the alignment lines that help ensure that your putter is on target at start.

At 380g the additional 40g weight of the mallet putter is "tour-weighted", suited best for the faster greens that are more and more common around the world. You'll also get a smooth forward spinning ball at impact with reduced skid giving you stability in your putting game.

White Nano Paint Disclaimer
The white color on this putter model is designed to enhance aim and improve vision clarity at address. Using a head cover is strongly recommended to protect the white finish from dings, scratches and other marks that come in contact with the head. Any cosmetic damage will not effect the performance of the putter nor is subject to warranty coverage.
Compare features, performance (and price) with Rossa® Ghost Putter at $159.
Includes custom headcover
| Club | Putter |
| --- | --- |
| Loft | 3 |
| Lie | 90 |
| Weight | 380 |
| Men's Std. Length | 34″ |
| Ladies Std. Length | 33″ |
Shaft and Grip:

Finish:

White

Custom Fitting Note:

The putter can't be built at +1.5" the longest the putter shaft will allow us to go is +1.
Displaying reviews 1 - 5 of 99 in total
David J. rated this product

on 02/13/18 I just wanted to take a minute, to tell you guys, I LOVE this putter. I am a LH, retired teaching pro, from the Dallas area - missed the Champions Tour, by two shots, several years ago. ("Those, who can't play, teach!") I have been thru many different putters, in my playing years; however, putting is pretty much, what kept me, off of the Tour. Your putter is the easiest to line up, I've ever had. I use the 33" length, so the much heavier head is perfect, for this length putter. Also, the ball rolls off the face, without a skid - also perfect, and, it is super forgiving. In my opinion, the face insert could be a smidge softer; however, it has plenty of feedback, and, a solid feel, as is. With a WinnPro 1.32 (Super Stroke type) grip, (on it's way), this thing is going, to be a killer! I'm selling my Odyssey XG #7!
Richard Call rated this product

on 01/13/18 Had been using the same putter for over 20 years and decided it was time to try something different. I liked the looks of the PGX putter and tested some "name" brand similiar putters at a golf store and decided to give this a try. This putter is heavier than what I was using so it took a couple of rounds to get acclimated to it. The ball truely does roll very smoothly off the club face. I really like the extended line on the back side of the putter as it has helped me tremendously in lining up my target line. I added a "jumbo" grip (never had one before) and I think that helped with me not being too "wristy" in my stroke. The putter headcover is also a nice addition so the paint doesn't get chipped. Overall I am very pleased so far with the results as I have been making more putts than before.
kevin nersinger rated this product

on 12/31/17 it s perfect putter
Neil reviewed this product on 08/26/17 I had been using an old cheap putter for many years and finally broke down and bought a one of these after reading many reviews. The one complaint people had was the paint chipping off, making the putter look bad in a short amount of time. I resolved this by painting the white portions of my putter with clear polyurethane prior to using it. I have played 10 or more rounds with it now with no visible damage to the paint. As far as the quality of the putter's function, it is so much different than my old blade putter, that it has taken some time for me to get used to it. I will say that the more I use it, the more I like it.
Mick Morley reviewed this product on 08/04/17 After reading some impressive reviews, I decided to buy into the hype and drop $40 to replace my old putter, which I'd never really gotten along with. Having only been back in the game for a few years, I wasn't about to blame my tools but I was missing putts more often than I should. I just never got the feel of my previous putter and couldn't consistently gauge the swing or strike. Today, I played my first round with the PGX, with zero practice beforehand. The first hit was for real on the first hole, 15ft to barely 2 inches from the hole. The weight and balance are great and I even joked that " this thing must be battery powered", as it seemed to calculate the required speed and direction required from the first hole to the last. It seemed I could do no wrong, with the natural feel helping me judge the swing on each and every hit. Unlike my tee shots, there wasn't a single putting stroke that I wasn't happy with. Any shortcomings were clearly mine and this club did its utmost to cover anything lacking in my green skills. I've always thought that clubs were 10% of the game with the golfer providing the other 90% but in this case, I honestly believe that the Pinemeadow PGX has dramatically improved my game. Without doubt, it saved me several strokes in this first round, making follow up putts much shorter than they may have otherwise been. This is the best golf purchase I've ever made. It looks great, feels great and plays even better.
Displaying reviews 1 - 5 of 99 in total