Pinemeadow PGX Putter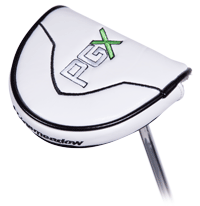 The putter features a precise white finish which stands out when the putter is in the address position on the green. This contrast of the white color against the green grass really helps maintain focus on the alignment lines that help ensure that your putter is on target at start.

At 380g the additional 40g weight of the mallet putter is "tour-weighted", suited best for the faster greens that are more and more common around the world. You'll also get a smooth forward spinning ball at impact with reduced skid giving you stability in your putting game.

White Nano Paint Disclaimer
The white color on this putter model is designed to enhance aim and improve vision clarity at address. Using a head cover is strongly recommended to protect the white finish from dings, scratches and other marks that come in contact with the head. Any cosmetic damage will not effect the performance of the putter nor is subject to warranty coverage.
Compare features, performance (and price) with Rossa® Ghost Putter at $159.
Includes custom headcover
| Club | Putter |
| --- | --- |
| Loft | 3 |
| Lie | 90 |
| Weight | 380 |
| Men's Std. Length | 34″ |
| Ladies Std. Length | 33″ |
Shaft and Grip:

Finish:

White

Custom Fitting Note:

The putter can't be built at +1.5" the longest the putter shaft will allow us to go is +1.
Displaying reviews 1 - 5 of 88 in total
G Rahemba reviewed this product on 07/30/16 Love the look when aligning the club to the ball! Practice swings are so smooth as well as the actual hitting of the ball. 3 to 5 footers are much easier to make now. 10 to 20 foot putts with the PGX result in more easy tap ins or gimmies! My old putter was a Carbite blade style putter. I am generally not a very good putter but this PGX by Pinemeadow has helped me with actual improvement and is building my confidence. To think this putter cost me only $58 (because I upgraded to a med. sized grip) is a actual 'steal'. I would definetely recomend this club to anyone. BTW it's pretty cool to be able to pick up the ball with the bottom of the club. White head cover is nice fit and easy to use velcro. Thank you Pinemeadow. . . so glad I found you!
Brett reviewed this product on 05/09/16 Arrived on time and exactly how I ordered! Absolutely love the look and feel, first time out I could tell an immediate difference. A lot less 3 putts already! My golf pro had never heard of pine meadow and couldn't believe how affordable this putter was for the quality.
Michael Palmer reviewed this product on 03/05/16 I have used Odyssey putters for many years and quite frankly I was not expecting a great putter at this price. I was more than pleasantly surprised. The weight is just what I wanted and the balance is very good. As far as I can see the build quality is as good as a $200 putter. So Pinemeadow has done a great job.
Chris reviewed this product on 06/14/15 Love my new putter. Nice look. Love the weight of it. It has improved my game. I had the super stroke grip put on mine and love the feel.. Thanks
Dean rated this product

on 08/25/14 Best putter I have ever had. Liked it so well that I bought a second one for my clubs at my vacation home. Very nice balance and feel. Hard to miss with this putter. Would highly recommend this putter to anyone looking for a change.
Displaying reviews 1 - 5 of 88 in total