Pinemeadow PGX Putter
$39.95
Compare features, performance (and price) with Rossa® Ghost Putter at $159.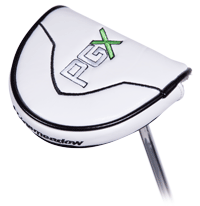 The putter features a precise white finish which stands out when the putter is in the address position on the green. This contrast of the white color against the green grass really helps maintain focus on the alignment lines that help ensure that your putter is on target at start.
At 380g the additional 40g weight of the mallet putter is "tour-weighted", suited best for the faster greens that are more and more common around the world. You'll also get a smooth forward spinning ball at impact with reduced skid giving you stability in your putting game.
White Nano Paint Disclaimer
The white color on this putter model is designed to enhance aim and improve vision clarity at address. Using a head cover is strongly recommended to protect the white finish from dings, scratches and other marks that come in contact with the head. Any cosmetic damage will not effect the performance of the putter nor is subject to warranty coverage.
Compare features, performance (and price) with Rossa® Ghost Putter at $159.
Includes custom headcover
| Club | Putter |
| --- | --- |
| Loft | 3 |
| Lie | 90 |
| Weight | 380 |
| Men's Std. Length | 34" |
| Ladies Std. Length | 33" |
Shaft and Grip:

Finish:

White

Custom Fitting Note:

The putter can't be built at +1.5" the longest the putter shaft will allow us to go is +1.
Showing reviews 1 through 5 of 78
Kevin

rated this product on

09/25/13

I think this is a great putter ... my biggest problem was missing shortish putts, within 6' ... even 3' putts were frustrating ... with this putter, I am about 95% confident they are going to drop ... I think the extra weight helps me keep the putter face square, when my old putter would twist open/closed and send my putts off-line only problem (so far) is I have troulbe with long lags ... seems I always leave 'em short ... but I have nearly eliminated 3 putts from my rounds since I got this putter, and that's good enough for me
Curtis

rated this product on

09/23/13

Short version: I'm sink more putts from all distances more consistently from all istances with this putter than any other I've ever used. Detailed version: I've had this putter for almost a year now. It finally replaced my Oddyssey White Hot blade putter permanently in my bag after going 5-over in last weekends tournament (my handicap is double-digits). I had been switching back and forth all year, but have steadily chosen the PGX with more frequency, and have now made a final choice after a thorough test. Which serendipitously frees up one more wedge slot in the 14-clubs in bag limit, lol. Anybody want to buy my Oddyssey putter? PS Pinemeadow customer service is top-notch!
Ron

rated this product on

08/03/13

Really a great putter for the money. However, the black bleeds through the white on the grip and looks very bad quickly.
Joe A. Winter Springs

rated this product on

07/05/13

Ok, Now that some time has past and I have played quite a few rounds I must say that I really enjoy using this putter. I am certain that with the putter and the extra work I have been putting in I have shaved some strokes. The big difference comes in the confidence that has been gained from using this putter. I have changed the grip, to a Super Stroke (Pine Meadow you need to offer this). But it is by far the best for this price. I would and have recommended Pine Meadow, take your time and order your clubs right and you will not be disappointed.
HT

said the following about this product on

06/22/13

Comment PGX Putter, in one word Awesome. Always get the putt to the hole. Make some, some are close but no. No one makes them all, but all are right there. After 5 rounds I have made more than my share. Teacher just really starting my season. For $40. you can top off your gas tank or you can get this putter. Love the white contrast and the alignment, plus head cover is bonus. Plus you can use bottom of club to pick up the ball. Whoever says you can't either is playing on soft greens or can't apply enough pressure to get the job done.
---