Pinemeadow PGX Putter
$39.95
Compare features, performance (and price) with Rossa® Ghost Putter at $159.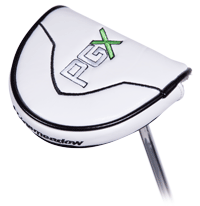 The putter features a precise white finish which stands out when the putter is in the address position on the green. This contrast of the white color against the green grass really helps maintain focus on the alignment lines that help ensure that your putter is on target at start.
At 380g the additional 40g weight of the mallet putter is "tour-weighted", suited best for the faster greens that are more and more common around the world. You'll also get a smooth forward spinning ball at impact with reduced skid giving you stability in your putting game.
White Nano Paint Disclaimer
The white color on this putter model is designed to enhance aim and improve vision clarity at address. Using a head cover is strongly recommended to protect the white finish from dings, scratches and other marks that come in contact with the head. Any cosmetic damage will not effect the performance of the putter nor is subject to warranty coverage.
Compare features, performance (and price) with Rossa® Ghost Putter at $159.
Includes custom headcover
| Club | Putter |
| --- | --- |
| Loft | 3 |
| Lie | 90 |
| Weight | 380 |
| Men's Std. Length | 34" |
| Ladies Std. Length | 33" |
Shaft and Grip:

Finish:

White

Custom Fitting Note:

The putter can't be built at +1.5" the longest the putter shaft will allow us to go is +1.
Showing reviews 1 through 5 of 72
Bob

rated this product on

05/18/13

This putter has completely turned my putting around! The guys I normally play with can't believe I'm the same guy...they think I've been practicing. Nope, this thing has made me dead accurate. My buddy even commented "its the best money you've ever spent on a club"! He's right....I'm regularly draining 20 footers now, and before I had a hard time even lagging it close. Awesome!!
Matt S.

rated this product on

02/13/13

Great putter for the price!! I wish I would have saw this earlier. But great feel and control. The only con of the putter is the ball holder at the bottom. It doesn't hold the ball after a week of using the club. But the playability is perfect.
Guy T.

rated this product on

02/05/13

I,like Bruce, have ordered all of my clubs plus 1 and 1/2. All feel great!!! Hurry Spring!!
Bruce G

rated this product on

02/04/13

Received this putter on time and in great shape. I ordered it with a plus 1 and 1/2 inches because I am tall. The feel this putter for me is awesome. I am consistent in distance and in accuracy. This should take a few strokes off of my game. Good work, Pinemeadows!
Guy T.

said the following about this product on

02/04/13

Just received my putter and as usual, Aaron and the staff at Pinemeadow delivered! All of my purchasing experiences have been great and would recommend the company to any and all of my friends. Thank you all and I can not wait to get out and start playing!
---