Pinemeadow Excel Monterossa Irons
Introducing the latest irons featuring the superior engineering of the Pinemeadow Excel line. The Pinemeadow Excel Monterossa irons blend tour inspiration with game improvement technology, designed for those players looking to take further control of their game.
The sleek radius of the sole and the varying face thickness creates an optimum launch trajectory that maximizes distance through added carry and roll. The slightly offset face offers golfers the ability to shape shots when needed, but still have forgiveness throughout your round.
More Product Info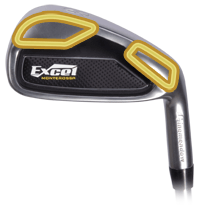 Performance Weighting
These irons are equipped with an offset perimeter weighted head, allowing us to create a forgiving iron suitable for players of all skill levels. As mentioned earlier, those who have the ability to shape shots will feel comfortable playing these clubs because of the way they were shaped and designed—tour performance look with a perimeter weighted feel.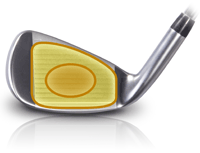 Playability and Performance
The design focuses on a traditional performance head shape featuring a tour top line, narrower sole, smaller head length and less offset. The mid-sized sole width gives you the flexibility to shape shots without sacrificing forgiveness yielding the ultimate shot shaping club. The undercut cavity and head length add to the forgiveness while improving stability of off-center hits. Overall, the Pinemeadow Excel Monterossa irons help your shot making ability and make iron play easier.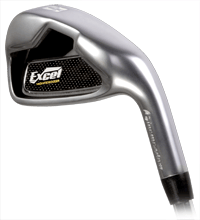 Made from Precision 431 Stainless Steel
Our exclusive "White Chrome" finish provides the Monterossa a clean look while maintaining a receptive soft feel at impact.
Built standard with a Pinemeadow Steel shaft from Apollo®, a 125 gram shaft with a low to mid kick point. Also available with our standard low-torque Pinemeadow Limited Graphite shaft for only $7.50 per shaft.
Set is available in a 3-PW and SW.
Compare features and performance to Callaway® Diablo Irons.
| Club | 3 | 4 | 5 | 6 | 7 | 8 | 9 | PW | SW |
| --- | --- | --- | --- | --- | --- | --- | --- | --- | --- |
| Loft (deg) | 20 | 23 | 25 | 28 | 31 | 35 | 40 | 45 | 56 |
| Lie (deg) | 60 | 60.5 | 61 | 61.5 | 62 | 62.5 | 63 | 63.5 | 64 |
| Offset (mm) | 5.7 | 5.3 | 4.9 | 4.5 | 4.1 | 3.7 | 3.3 | 2.9 | 1 |
| Weight (g) | 242 | 249 | 256 | 263 | 270 | 277 | 284 | 291 | 298 |
| Bounce (deg) | -1 | -1 | 0 | 2 | 3 | 4 | 5 | 6 | 10 |
Shaft and Grip:

Body Material:

431 Stainless Steel

Finish: White Chrome
Displaying reviews 1 - 5 of 40 in total
Eric reviewed this product on 04/25/16 I just recently got these irons to replace my Pinemeadow Command BK set that was almost 10 years old. I upgraded with graphite shafts, and the lamkin mid-sized grips. I don't lack the strength to hit the ball far, but I lack the skill to strike the ball squarely with the speed required to hit the ball far. The graphite shafts help with this and have me hitting my 7-iron straight as an arrow 150 yards. The perimeter weighting on these will allow me to shape shots with more practice but for now I'm happy hitting the ball nice and straight. Off the tee my 3-Iron has a consistent draw that I can use on dog legs to the left, and other than that the rest of the clubs hit straight off the tee as well. Another reason for the graphite is that I only play a few times a year but every now and then my friends want to play 36 holes, and with steel shafts I'm usually pretty sore after these sessions. These are great clubs at a great price. I doubt I'll ever buy a set of name brand clubs.
James reviewed this product on 04/19/16 I have been playing about 1-2 years now after taking some college course classes on how to play golf, and these are the first irons I bought. I really like them after playing with them for a little while now, I got the 5-pw w/ the graphite shafts, and I must say they are very accurate, and I can hit the 5 iron 150-170 yds. not too bad for how old these are (just learned they've been around for more than 10 yrs thanks to the previous post). That's comparable to most lvl 50 irons on WGT when it comes to distance, so I am still happy, despite the age of them. p.s. I would like an option to buy the 3 and 4 iron individually since I made the mistake of buying the 5-PW.
Joey Langley reviewed this product on 09/15/15 I play golf leisurely and with a League, averaging play twice a week, with a 24 handicap. I bought the whole set of these irons about 10 years ago. I feel compelled to give you a report on them now (thought about it - since I'm visiting the site now to look at some more items). Before, I had an old set of Top Flite Irons. I must tell you the performance of these Monterossa Irons has been excellent. They are very accurate, have a good feel, and have held up well - still look like new. Hit 3 Par 3 greens last Saturday, all close to the hole. I got my wife a 4 iron in this product too about 2 years ago - and she loves it. I would HIGHLY recommend these clubs!
Alan reviewed this product on 06/09/15 Ordered the Monterossa irons an absolutely believe they are better hitting than my Taylormade Burner irons . Excellent quality at an affordable price!
John E rated this product

on 04/27/14 I've done about 45 rounds with these clubs and couldn't be happier. They replaced my Spaulding Tour XL's. I'm one of those people that believe that if you have a good swing that your going to hit the ball...regardless. I'm hitting better with these clubs, but i'm working harder on my swing. The clubs are great, everything you could want at a fantastic price. I get a big kick out of those guys that pay the big bucks for the name brand and really ddon't hit the ball any better. I'd rather hit smart than hit expensive! Don't hesitate, you can't lose.
Displaying reviews 1 - 5 of 40 in total