Secret Weapon Hybrids
V-Shaped Sole Design
The Secret Weapon is the perfect hybrid for any golfer's arsenal! Designed for superior control and optimal launch on your mid- to long-range shots. The hybrid features a "V" sole designed to attack the buried lies or shots from the rough at long distances.

Built for Performance
This club is built 1-inch longer than our standard hybrid lengths with a low torque custom Superfly shaft which adds additional leverage, creating more power to help get the ball out high creating a higher launch for a softer landing.
Shaft and Grip
All clubs will include a Golf Pride Tour Wrap 2G Red grip with unbelievable feel and performance.
Secret Weapon is assembled with a specially designed shaft to match the features of this club. Depending on the flex you order will determine the color of the shaft. Use the chart below to reference the color of the shaft: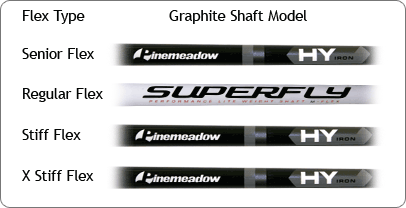 Compare features, performance and price to the Taylor Made® Raylor.
Built standard with a custom low-torque Pinemeadow hybrid graphite and Golf Pride Tour Velvet Tour Wrap Red grip.
Club length is 1" longer then our standard hybrid length to maximize the performance of the club.
A custom Secret Weapon headcover is included
| Club | 3 | 4 |
| --- | --- | --- |
| Loft | 19* | 22* |
| Lie | 59* | 59.5* |
| Weight | 238g | 244g |
| Volume | 112cc | 106cc |
| Face Angle | 0 | 0 |
| Men's Std. Length | 41.5" | 41" |
Shaft and Grip:

Material:

431 Stainless Steel

Custom Fitting Note 1:

Hybrids can't be built at +1.5" the longest the hybrid shaft will allow us to go is +1 for this model.

Custom Fitting Note 2:

In order to provide the perfect custom fit for you, a half inch adjustment may be made on all length requests greater than an inch. We do this in order to match your requested flex, since flex in a hybrid shaft is the most important aspect. The end result is the perfect custom fit! We would love to go over any fitting or other questions you may have, so please contact us.
Displaying reviews 1 - 5 of 41 in total
Tyson K rated this product

on 11/07/14 I love these hybrids!! I have the 3 and 4 hybrids and they are great clubs. My favorite (most used) is the 4 hybrid, I usually tee off with it and it goes straight and far! Thanks Pinemeadow!
Seth rated this product

on 07/02/14 Should have bought the 4 hybrid also. Hoping that the sale happens again. This is my first hybrid purchase and so far so good. I know I will also consult a Pinemeadow rep before the next purchase. I am considering adding other Pinemeadow products to the old bag. I saw the ZR 3.0 looks sharp would love to test it.
Panera rated this product

on 11/12/13 Got a 3 hybrid in this and it is the most consistent club in my bag. Best part about it is I got it dirt cheap. Good work, Pinemeadow! Really wish you all sold an adjustable driver as I really need one.
Amos rated this product

on 11/06/13 I bought this 3 hybrid club over the summer and so far so good. Paint is wearing off a little but I hit it consistently 215 yards. Don't see much difference in this and the name brands.
Jordan. rated this product

on 11/04/13 Me and my buddy are always debating the pros and cons of low cost clubs from companies like Pinemenadow (I thought they had their place and he thought they were cheap junk) so we decided to do a test for our selves. I already had a Adams 19* Super Hybrid and he had a TaylorMade 19* Rescue Club. We chipped in 15 bucks apiece, bought the Pinemeadow 3 Secret Weapon Hybrid from our Post Exchange and went off to the Simulator. After smoozing the saleslady (to get extra time) and warming up, we each took 12 swings with each Hybrid. After throwing out the top 3 and lowest three distances for each club, we thought we would have a pretty good assessment of what each club could do. The results were that my Adams was the longest at 215.5 yards, followed by the TaylorMade at 212.6 and the Secret Weapon at 210.1. Considering that my Adams cost nearly $200 and the TaylorMade was over $120, the 30 dollars spent for the Secret Weapon seems like a pretty good value. My buddy is now a believer and is even considering buying a wedge from you guys.
Displaying reviews 1 - 5 of 41 in total