SWCQ Hybrid Set
Whoops!
You've found a product that we no longer carry. We appreciate your interest and encourage you to explore the rest of our site by clicking here. For help finding a similar product or other questions, please contact our customer service team.
V-Shaped Sole Design
The Secret Weapon is the perfect hybrid for any golfer's arsenal! Designed for superior control and optimal launch on your mid- to long-range shots. The hybrid features a "V" sole designed to attack the buried lies or shots from the rough at long distances.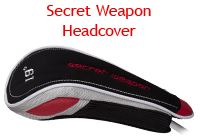 Built for Performance
This club is built 1-inch longer than our standard hybrid lengths with a low torque custom Superfly shaft which adds additional leverage, creating more power to help get the ball out high creating a higher launch for a softer landing.

Shaft and Grip
Secret Weapon hybrids (only) are assembled with a specially designed shaft to match the features of this club. Depending on the flex you order will determine the color of the shaft. Use the chart below to reference the color of the shaft: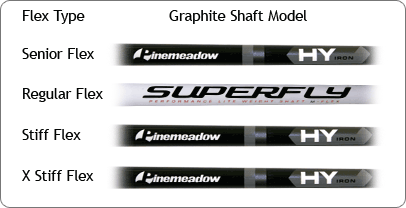 Command Q Irons 5-PW
The Command series has always been highly regarded as a forgiving club featuring cutting edge weighting throughout the club head. The latest Command iron set is no different, featuring a weight distribution technology and wider sole. The wider then usual sole design combined with an under-cut cavity and rear weighting produce superior playability for all types of players.
What difference does the wide sole make? The wide sole prevents the club from digging into the turf ensuring more solid contact even on fat or thin shots. The lower center of gravity produces a higher launch angle.
How do the under-cut cavity and added weights in the rear of the club help? They dramatically increase the moment of inertia, reducing twisting and increasing accuracy, even on miss-hits. The weights also lower the center of gravity for optimal trajectory and feel.
Compare features, performance and price Taylor Made® Hybrids and Irons
The standard 3-PW, SW set is offered with a hybrid 3 and 4 with the remaining irons as per usual.
Set includes FREE headcovers for all hybrid clubs in the set you choose.
| Club | 3 | 4 | 5 | 6 | 7 | 8 | 9 | PW | SW |
| --- | --- | --- | --- | --- | --- | --- | --- | --- | --- |
| Loft | 19° | 22° | 23° | 26° | 30° | 34° | 39° | 44° | 54° |
| Lie | 59° | 59.5° | 61.5° | 62° | 62.5° | 63° | 63.5° | 64° | 64.5° |
| Weight | 238g | 244g | 258 | 265 | 272 | 279 | 286 | 293 | 300 |
| Offset | 0 | 0 | 5.3 | 5 | 4.7 | 4.3 | 4 | 3.7 | 3.7 |
| Volume | 112cc | 106cc | N/A | N/A | N/A | N/A | N/A | N/A | N/A |
| Men's Std. Length (Graph/Steel) | 41.5″ | 41″ | 37.75″ | 37.25″ | 36.75″ | 36.25″ | 35.75″ | 35.75″ | 35.75″ |
| Men's Std Length (All Graphite) | 41.5″ | 41″ | 38.25″ | 37.75″ | 37.25″ | 36.75″ | 36.25″ | 36.25″ | 36.25″ |
Shaft and Grip:
Ryan rated this product

on 05/16/12 I got this set when it was the Masters Special, I was in need of a new set of clubs. Having kids, I haven't played as much as I would like to in the past few years. I got in a Men's League this year at a local golf course. I'm around a 20 handicap. I hit these irons as good as anyone using actual Taylor Made clubs in my division. A few times, guys asked to see what I was using. The heaviness of the club head helps out a ton. I actually hit the hybrids TOO FAR! I can't judge how far I hit my clubs yet hehe. Overall these are a great set for any level of golfer, I am definitely a novice. Thank you Pine Meadow for this great set of clubs. They are helping me tremendously