Command BK Hybrids
$59.95
Compare features, performance and price to the Taylor Made® Dual TP Hybrids.
The Command Hybrids have a new look with the same great features that have made them our most popular hybrids to-date. Our exclusive black pearl finish gives these clubs a sleek, stylish look. They come equipped with two rear 6g weights designed to lower the center-of-gravity, increase the MOI (moment-of-inertia) and allow for shot shaping.
Adjustable Weight-Port Technology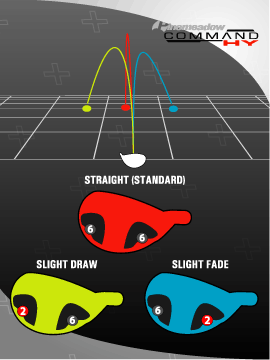 Adjustable weight-port technology allows you to move both rear weights to configure the club to play any shot type. Whether it's a draw, fade or straight, expect to see longer shots, increased launch and improved accuracy. Use the hybrids direct off the tee, straight out of the rough or tight lies right off the fairway. The Command hybrid irons are the club to play. They are versatile, long and forgiving! Command the respect from your golf buddies and take your game to another level.
Club comes installed with two 6g weights. We'll also toss in one extra 2g weight. Instructions on how to configure your club to match a particular ball flight:
Fade:
6g weight in toe of club, 2g weight in heel
Draw:
2g weight in toe of club, 6g weight in heel
Straight:
equal weights in toe and heel
More Command BK Golf Clubs
Compare features, performance and price to the Taylor Made® Dual TP Hybrids.
Built standard with your choice of a low-torque Pinemeadow Hybrid Graphite Shaft or Apollo Lite Steel shaft.
We highly recommend a graphite shaft on all hybrid golf clubs.
A red/black headcover is included with hybrid.
| Club | 3 | 4 | 5 |
| --- | --- | --- | --- |
| Loft | 19° | 22° | 25° |
| Lie | 59.5° | 60° | 60.5° |
| Weight | 236g | 241g | 246g |
| Face Angle | 0 | 0 | 0 |
| Volume | 107cc | 110cc | 113cc |
| Men's Std. Length | 40.5" | 40" | 39.5" |
| Ladies Std. Length | 39.5" | 39" | 38.5" |
Shaft and Grip:

Material:

431 Stainless Steel

Weight Material:

Two 6g tungsten weights and one 2g aluminum weight

Finish:

Black Pearl - Pinemeadow Exclusive!

Custom Fitting Note:

In order to provide the perfect custom fit for you, a half inch adjustment may be made on all length requests greater than an inch. We do this in order to match your requested flex, since flex in a hybrid shaft is the most important aspect. The end result is the perfect custom fit! We would love to go over any fitting or other questions you may have, so please contact us.
Showing reviews 1 through 5 of 24
Joe F

rated this product on

04/04/12

I purchased the entire set in Dec and have just recently been able to start using them. I'm very pleased with the clubs, they are definitely hitting straighter and slightly longer than the 2 hybrids I had been using. Thank you for making such an easy club to hit.
Marc

rated this product on

09/24/11

Just pick up 3 h from dunhams. Took it straight to the course. I intially had trouble hitting the club, new to hybrids, but once i got used to it i was hitting it very well! Greater accuracy then my 5 wood. Really looking forward to playing more with this club as i feel its gonna be my go to club! I hit a couple greens with it and had great success using it from the tee on tight dog leg left holes. Gave it a four due to the finish. After one days use the black has ball marks all over it. Hopefully the worn finish will look okay.
Kenny D

rated this product on

09/17/11

All I can say is wow. Ordered a +1 Stiff Flex 5. I usually have a slight fade on the ball. With this club I had to stop Aiming left 10ft. I dont know if It was the Stiff Flex (because my other clubs are Regular) or the way the grooves are on the face of this club, but the ball went high, long, and straight. Even on a miss hit it went straight. I did notice this club was ripping small pieces of the covers off the range balls. Can only imagine what it will do to a softer ball. I will most likely be purchasing the rest if they are going to be this nice. Great protect. I can only imagine the spin these put on the balls is above anything in my bag. Great protect Great price. Lamkin Permawrap was nice and tacky also. Perfect Club.
Andy

rated this product on

07/22/11

I picked up the 4h at the px last night to round out my set. I have to say, the first shot I took with this thing, went long and straight made the green in 2 on a par 5. What was a 5 wood shot, is now a 4h shot. I never even took the headcovers off my fairway woods and probably won't ever again. Fantastic club!
Leo C

rated this product on

02/06/10

Hey guys, I was wondering if you were planning to make a 2h for us lefties? I bought the Command BK hybrid set last year (3h,4h, 5-sw) and absolutely LOVE them!!
---