Pre Wedge
The Pre wedge features a wide sole at the bottom of the club head which narrows towards the toe to provide a more forgiving hitting surface. Combine this proven shape and bounce design to provide accurate play from any lie.
Club Face Image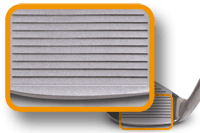 Pinemeadow Nation, thanks for the feedback, here is the image you asked for. Our wedges, like most others in the marketplace today, feature "U" groove technology.
Custom build with a high quality Pinemeadow steel from Apollo®, a 125 gram shaft with a low to mid kick point for the same $29.95 value, perfect for the beginning to average golfer. Graphite is also available for $7.50 more per club.
Available in 52, 56, 60 and 64 degree loft.
| Club | AW | SW | LW | UW |
| --- | --- | --- | --- | --- |
| Loft (deg) | 52 | 56 | 60 | 64 |
| Lie (deg) | 64 | 64 | 64 | 64 |
| Weight (g) | 300 | 300 | 300 | 300 |
| Bounce (deg) | 8 | 12 | 6 | 4 |
Shaft and Grip:
Displaying reviews 1 - 5 of 60 in total
Tony Rufrano reviewed this product on 08/05/17 Got something against lefties? Guess I'll look elsewhere for a 64 degree.
ed colelli reviewed this product on 07/12/16 I purchased a 52 degree wedge and it has become my most used club in the bag... From 100 yards out to pitching and chipping.. Mostly pitch and run.. After calling PM golf and asking if it was possible to have a whole set, 5 thru PW made with the same specs as the 52 degree... They told me no, they do not have the materials.(molds)... Oh Well.. Honestly, on any given day I can shoot an 80 or a 90... Inconsistent to say the least... But the Pre Wedge never seems to fail me and my most confidently used club...
Chris reviewed this product on 02/20/16 These wedges are surprisingly awesome! Improved my wedge play Immensely! Would recommend them to anyone looking for a nice affordable option with great playability. Definitely upgrade the grips.
oONICKWESToO reviewed this product on 10/18/15 These I bought from Walmart, so I did not get the good shafts, and everything, but they are still great. As far as I know they are some Clevelands.
Charlie rated this product

on 11/08/13 The 56 degree Sand Wedge is amazing. I have two other Pinemeadow Wedges, the Excel Strong Iron 55* SW, and a Pinemeadow Lob Wedge (60*). The other wedges have a bounce of 12*-14*, but they don't seem to come close to the Pre 56* SW. The Pre SW seems to have more bounce, but the feel is more positive. Even at a slower 45-50 MPH swing speed, I can control my chips under 100 yards. My Pre SW came with a stepless steel shaft and an older style Pinemeadow grip (the smooth one) that seems to be mid-size or over-sized which was perfect for this wedge. The overall length was about 35.75", making it just short of the Pre 10/PW. The swingweight is about D8 with an overall mass of 476 grams. I love the appearance and polished finish. The feel is great and I seem to have more control versus my other wedges, so I am going to just use the Pre 10/PW and the Pre SW as my wedges.
Displaying reviews 1 - 5 of 60 in total