PGX SS400 Long Putter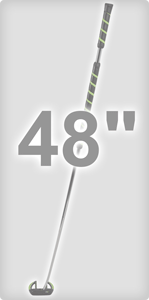 The PGX SS400 putter debuts as PinemeadowGolf's first original long putter offering. Great care and attention to detail was taken to ensure consistent performance and feel in a club that can be used in multiple ways. At 48 inches, the SS 400 is a dynamic flat stick that can be belly anchored, chest anchored, side-saddled, or wielded any other way you see fit. Putting is all about feel, and this putter allows you to find what works best for you.
The 410-gram head makes a smooth takeaway and follow through effortless. The two-piece matching grip that clothes the beefy shaft exudes confidence as you stand over the ball. Built with our premium steel straight shaft comes standard on the SS 400 and is specially designed to decrease shaft flex through the stroke, which can be a problem with putters of this length when not accounted for.
The weight distribution of the SS 400 head is focused to the front and the sides to keep the face balanced and encourage over spin to get the rolling toward the hole without skidding. The rear stabilizing "fangs" promote perimeter weighting and provide parallel sight lines to align with. In addition, they double as a ball pick up, because at PinemeadowGolf we always have your back!
Built at 48″ Long
Includes Headcover
| Club | Putter |
| --- | --- |
| Loft | 3 |
| Lie | 79 |
| Weight | 410 |
| Length | 48″ |
Displaying reviews 1 - 5 of 7 in total
Luke Glusco reviewed this product on 06/29/17 Question for Pinemeadow: Could I get this with a standard length shaft? I would want everything else the same, especially the 79 degree lie angle.
Leonard Adams reviewed this product on 04/20/16 With major back issues curtailing my time on the golf course, I decided to make a change. With bending over to putt putting the most pressure on my back, I found this long putter. I've used a long putter in the past and had very good success. This club has been a God send. Because I'm in no danger of joining the PGA, the anchoring rule doesn't apply. I play for my enjoyment. I love the sound the putter makes with every stroke. That "plink" means the ball is rolling true to the line I have chosen. Buy this club. I highly recommend it.
Dave Bettencourt reviewed this product on 02/26/16 After reading Tom Hunter's review I did the same thing. Had the shaft cut short, and put a Jumbo Super Stroke grip on. Pinemeadow was very accommodating to my special order and the turn around was fast. I LOVE this putter. The feel, balance an control is perfect for me. My putting immediately improved. It is one of my favorite clubs in my bag.
William Talbot rated this product

on 08/06/15 Recently decided to change my putting approach from traditional to non-anchoring side saddle or face-on. To make the change, I needed to get a long putter. Looking for a good deal, I found the PGX SS400 Long Putter on Amazon.com for a great price. After messing around with it, I felt it twisted a little to much when making a putt, i.e. the ball tended to miss left...so I added lead wt. to the tip of the putter. This solved the twisting problem. One other issue I fixed was the grip. I had to move the lower grip farther down the shaft in order to accommodate my new face-on putting style. After making these changes, I haven't looked back. My putting has dramatically improved. Prior to this putter and style change, I regularly shot in the high 80's / low 90's...handicap 15+. I had no confidence often missing 2 ft. or less putts. Once I made the change, my scores have greatly improved. I'm now shooting in the low 80's and have had a round of 79...handicap now trending 13. Now I make most of those knee knocking 3 footers. (Tip: On short putts, I slightly tilt the putter face back towards me...adds 3 to 4 degrees of loft. I then make a controlled punching motion with the putter which adds more top spin when striking the ball. Result, the ball goes straighter.)
Thomas Hunter Jr. rated this product

on 05/17/13 Well I won this putter from a contest and asked them to customize it to 32 inches and put a jumbo grip on and they game jumbo Lampkin grip and they did this with no problem. They are very respectful and how you want to make your clubs and the putter is one of the most smoothest rolling putters I have ever used and I had to get this putter again I would most certainly do. Another the putter does is keeps your putts on line and gives sweet ping sound when using a tour style golf ball. I know this putter deserves a rating better than 5.
Displaying reviews 1 - 5 of 7 in total