Pinemeadow Excel Mid Launch Plus Irons
Whoops!
You've found a product that we no longer carry. We appreciate your interest and encourage you to explore the rest of our site by clicking here. For help finding a similar product or other questions, please contact our customer service team.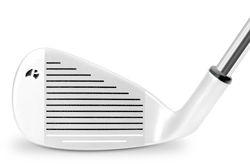 The Pinemeadow Excel Mid Launch Plus irons are designed with precision offsets for greater forgiveness and refined with a rounded toe and a large "notched cavity". These features allow players to gain control of the iron making it easier to shape shots and improve iron play.
The irons are still considered to be forgiving and like every model in the Excel series they are designed for great feel, weight, and reduced twist. The perimeter weighting system on the club is designed to move the weight where its needed the most creating a club head that provides maximum forgiveness throughout the entire club face. From the golf maven to the newcomer, expect to feel a pure shot on every swing with these versatile irons as they help improve your game.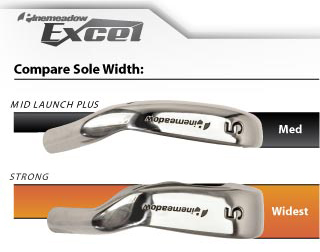 A key difference between these irons and the Excel Strong irons is the width of the sole. The Mid Launch Plus irons feature a medium sole that helps generate a bigger sweet spot but it's not as bulky as the ones found in the Strong irons. Some players prefer this sole size because it will not get caught up in the rough as readily and is easier to play on different types of shots.
There are advantages to both styles—it comes down to the preference of the player. If you are unsure which style would be best for you don't hesitate to contact one of our golf gurus and we'll be happy to help you out.

Clearance Sale: Guarantee and Warranty Information
This club is on clearance. Please note it is not eligible for the 30 day money back guarantee or store credit policy. However, we still offer the twelve month defect warranty on all clearance clubs.
Built standard with high quality Pinemeadow steel shaft from Apollo®, a 125 gram shaft with a low to mid kick point.
Also available with our standard low-torque Pinemeadow Graphite Shaft for only $7.50 per shaft.
| Club | 3 | 4 | 5 | 6 | 7 | 8 | 9 | PW | SW |
| --- | --- | --- | --- | --- | --- | --- | --- | --- | --- |
| Loft (deg) | 21 | 23.5 | 26 | 29 | 33 | 37 | 41 | 46 | 56 |
| Lie (deg) | 59.9 | 60.6 | 61.3 | 62 | 62.5 | 63.5 | 64.5 | 65 | 65 |
| Weight (g) | 242 | 249 | 256 | 263 | 270 | 277 | 284 | 291 | 300 |
| Offset (mm) | 8 | 7.5 | 7 | 6.8 | 6.5 | 6 | 5.5 | 5 | 4.5 |
Shaft and Grip:

Material:

431 Stainless Steel

Finish:

Mirror
Displaying reviews 1 - 5 of 42 in total
Jim rated this product

on 12/04/10 I bought my Excel irons (5-SW), driver, 3-4 hybrids, and 3-5 metals a little over 3 years ago; so, you can tell I'm not quick to write reviews - in fact, this is my first on any product, whether good or bad. While I like the metals fine after some getting used to (I didn't do a very good job of fitting myself and it took time to adjust to them), I honestly believe the irons are the best I've ever had - truly excellent. While it's true I spent quite a bit of time practicing, it's also true the feel gave me more confidence and within a year I shot my first 79! I feel the same way about the hybrids - excellent. I can say I'll never fall victim to the marketing hype of the 'brand names' again. These clubs are an eye-opener.
lafaix rated this product

on 08/10/10 Je viens de recevoir ma série du 5 au Sand ... je les ai tout de suite essayés .. extra !! Ce n'est pas ma première comande à PINEMEADOW et je n'ai jamais été déçu ni par le matériel ni par la rapidité de réalisation de mes commandes (8 jours rendus en France à mon domicile) Bravo !!
Rick rated this product

on 05/24/10 For the price these clubs can't be beat. I bought a set about 4 years ago and still using them today. I bought them in high school when I was a 12 handicap and am currently a 5. The clubs are easy to hit and very forgiving. Give them a try, you will not regret it.
Hubie rated this product

on 03/31/10 I have been playing golf for 35 years, sometimes a lot, sometimes a little. These clubs are easy to hit irons that suit my game perfectly. I hit a high ball and needed something not promoting height, and these are very good at that. Very consistent distance and that is due to the shaft. I added dynamic gold shafts at 1" longer with a larger grip. Excellent feel on all shots and enough of a difference to know when I have struck it pure. I too have had loose grommets at the hosel - this can and does happen to all clubs. Simply maintain your clubs, add some glue when they are loose before they break. Also, I swing hard and the old clubs tended to scrape balls. Doesn't happen now, maybe the ball, maybe the club, probably both
Richard M. rated this product

on 03/24/10 I started playing golf about 2 years ago and started with PM Excel Mid-launch Plus irons that were past down to me. After finally getting my swing down and my scores, I decided to purchase a new set of clubs. Well, since I knew that the clubs I had went through alot of wear and tear, not only by me but by the 3 other people who had them before me, I knew Pinemeadow made atleast a very durable club! So I decided to buy a brand new set of PM Excel Mid-launch Plus irons 3-pw, PM 56 degree wedge, ZR1 2-hybrid and ZR1 driver! When I received my clubs on the day promised, the first thing I noticed was the excellent quality! These new irons were nice and shiny and the driver and hybrid's PM shaft were 2nd to none! I also decided to get the upgraded steel shafts which made these irons feel so good! Who needs Callaways when there is PM Excel's! Thanks Pinemeadow and continue the great service and product!
Displaying reviews 1 - 5 of 42 in total