Pinemeadow Excel Monterossa Irons
Introducing the latest irons featuring the superior engineering of the Pinemeadow Excel line. The Pinemeadow Excel Monterossa irons blend tour inspiration with game improvement technology, designed for those players looking to take further control of their game.
The sleek radius of the sole and the varying face thickness creates an optimum launch trajectory that maximizes distance through added carry and roll. The slightly offset face offers golfers the ability to shape shots when needed, but still have forgiveness throughout your round.
More Product Info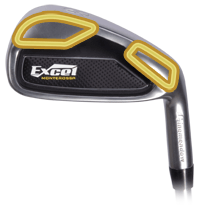 Performance Weighting
These irons are equipped with an offset perimeter weighted head, allowing us to create a forgiving iron suitable for players of all skill levels. As mentioned earlier, those who have the ability to shape shots will feel comfortable playing these clubs because of the way they were shaped and designed—tour performance look with a perimeter weighted feel.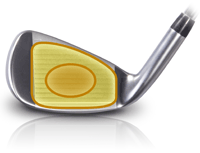 Playability and Performance
The design focuses on a traditional performance head shape featuring a tour top line, narrower sole, smaller head length and less offset. The mid-sized sole width gives you the flexibility to shape shots without sacrificing forgiveness yielding the ultimate shot shaping club. The undercut cavity and head length add to the forgiveness while improving stability of off-center hits. Overall, the Pinemeadow Excel Monterossa irons help your shot making ability and make iron play easier.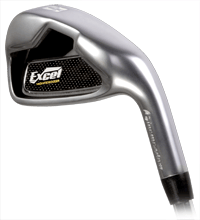 Made from Precision 431 Stainless Steel
Our exclusive "White Chrome" finish provides the Monterossa a clean look while maintaining a receptive soft feel at impact.
Built standard with a Pinemeadow Steel shaft from Apollo®, a 125 gram shaft with a low to mid kick point. Also available with our standard low-torque Pinemeadow Limited Graphite shaft for only $7.50 per shaft.
Set is available in a 3-PW and SW.
Compare features and performance to Callaway® Diablo Irons.
| Club | 3 | 4 | 5 | 6 | 7 | 8 | 9 | PW | SW |
| --- | --- | --- | --- | --- | --- | --- | --- | --- | --- |
| Loft (deg) | 20 | 23 | 25 | 28 | 31 | 35 | 40 | 45 | 56 |
| Lie (deg) | 60 | 60.5 | 61 | 61.5 | 62 | 62.5 | 63 | 63.5 | 64 |
| Offset (mm) | 5.7 | 5.3 | 4.9 | 4.5 | 4.1 | 3.7 | 3.3 | 2.9 | 1 |
| Weight (g) | 242 | 249 | 256 | 263 | 270 | 277 | 284 | 291 | 298 |
| Bounce (deg) | -1 | -1 | 0 | 2 | 3 | 4 | 5 | 6 | 10 |
Shaft and Grip:

Body Material:

431 Stainless Steel

Finish: White Chrome
Displaying reviews 1 - 5 of 36 in total
John E rated this product

on 04/27/14 I've done about 45 rounds with these clubs and couldn't be happier. They replaced my Spaulding Tour XL's. I'm one of those people that believe that if you have a good swing that your going to hit the ball...regardless. I'm hitting better with these clubs, but i'm working harder on my swing. The clubs are great, everything you could want at a fantastic price. I get a big kick out of those guys that pay the big bucks for the name brand and really ddon't hit the ball any better. I'd rather hit smart than hit expensive! Don't hesitate, you can't lose.
Bubba F rated this product

on 01/16/14 I've been using Monterosa irons with Pinemeadow LIMITEd graphite shafts and upgrade grips for almost a year now and moving the Excel Mid-launch irons (same set-up) to a traveling and loaning set. I've been very pleased with both but I have one complaint about the Monterosa's, I've had to recalculate my club distances to compensate for the extra 10 yards + I've gained. Clubs are great and very forgiving.
Daniel R. rated this product

on 01/11/14 I have played these clubs for two seasons now. I can understand why they are on your "Best Sellers" list.
Ian Dow rated this product

on 12/25/13 Received a set of Monterossa Excel Irons from Santa, I am absolutely delighted with them, they are replacing the Mizuno's I have used for the last 8 years. I whacked a bucket of balls this morning, my initial reaction "Why didn't I try these years ago" The quality and "feel" of the clubs is outstanding, WELL DONE PINEMEADOW
Rex K rated this product

on 10/04/13 Great set of irons. Have a set of ZR-1s and a set of the Command Q titanium irons. Excel Monterossa irons are my favorite. Upgraded the grips to Lambkin midsize wrap. Really worth the money for the irons and the grip upgrade. You can't go wrong when you buy golf equipment from Pinemeadow.
Displaying reviews 1 - 5 of 36 in total