Pinemeadow Excel Monterossa Irons
$149.95
Compare features and performance to Callaway® Diablo Irons
Introducing the latest irons featuring the superior engineering of the Pinemeadow Excel line. The Pinemeadow Excel Monterossa irons blend tour inspiration with game improvement technology, designed for those players looking to take further control of their game.

The sleek radius of the sole and the varying face thickness creates an optimum launch trajectory that maximizes distance through added carry and roll. The slightly offset face offers golfers the ability to shape shots when needed, but still have forgiveness throughout your round.


More Product Info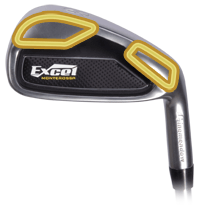 Performance Weighting
These irons are equipped with an offset perimeter weighted head, allowing us to create a forgiving iron suitable for players of all skill levels. As mentioned earlier, those who have the ability to shape shots will feel comfortable playing these clubs because of the way they were shaped and designed—tour performance look with a perimeter weighted feel.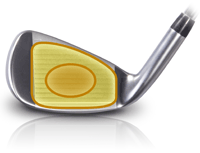 Playability and Performance
The design focuses on a traditional performance head shape featuring a tour top line, narrower sole, smaller head length and less offset. The mid-sized sole width gives you the flexibility to shape shots without sacrificing forgiveness yielding the ultimate shot shaping club. The undercut cavity and head length add to the forgiveness while improving stability of off-center hits. Overall, the Pinemeadow Excel Monterossa irons help your shot making ability and make iron play easier.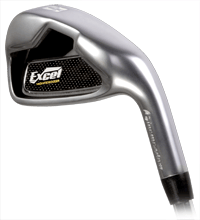 Made from Precision 431 Stainless Steel
Our exclusive "White Chrome" finish provides the Monterossa a clean look while maintaining a receptive soft feel at impact.
Built standard with a Pinemeadow Steel shaft from Apollo®, a 125 gram shaft with a low to mid kick point. Also available with our standard low-torque Pinemeadow Limited Graphite shaft for only $7.50 per shaft.
Set is available in a 3-PW and SW.
Compare features and performance to Callaway® Diablo Irons.
| Club | 3 | 4 | 5 | 6 | 7 | 8 | 9 | PW | SW |
| --- | --- | --- | --- | --- | --- | --- | --- | --- | --- |
| Loft (deg) | 20 | 23 | 25 | 28 | 31 | 35 | 40 | 45 | 56 |
| Lie (deg) | 60 | 60.5 | 61 | 61.5 | 62 | 62.5 | 63 | 63.5 | 64 |
| Offset (mm) | 5.7 | 5.3 | 4.9 | 4.5 | 4.1 | 3.7 | 3.3 | 2.9 | 1 |
| Weight (g) | 242 | 249 | 256 | 263 | 270 | 277 | 284 | 291 | 298 |
| Bounce (deg) | -1 | -1 | 0 | 2 | 3 | 4 | 5 | 6 | 10 |
Shaft and Grip:

Body Material:

431 Stainless Steel

Finish: White Chrome
Showing reviews 1 through 5 of 32
Rex K

rated this product on

10/04/13

Great set of irons. Have a set of ZR-1s and a set of the Command Q titanium irons. Excel Monterossa irons are my favorite. Upgraded the grips to Lambkin midsize wrap. Really worth the money for the irons and the grip upgrade. You can't go wrong when you buy golf equipment from Pinemeadow.
Rico

rated this product on

06/26/13

I received my clubs promptly. Look great. Took them to the range and they hit great. These clone clubs hit as well as or better than my name brand clubs. The Pinemeadow Excel Monterossa Irons are very good clubs. Bought a putter in the past from PM and it still rocks! Will buy from PM again.
Mike

rated this product on

06/06/13

I received my clubs on time, and immediately took them to the range. I loved them from the first swing! They look great and the custom modifications (over-size grips and stiff shafts) made a huge difference for my game. I went straight to the course after hitting them on the range and continued to love them. I got the 3-PW + a 56* SW. The 3-5 irons completely eliminated my need for the old hybrid in my bag, I just hit these irons much better. Couldn't be happier with the Pinemeadow experience, I just ordered a new putter last night from them and will be getting my next driver here as well when it's time. I just wish there were a few more bag options, I'd love to promote the brand more!
BOB

said the following about this product on

05/09/13

Recieved my clubs at 12 noon on tuesday,one day earlier than expected,arrived in excellent condition.was on the local.course at 1pm,no warm up at all.right off the bat i was hitting my new irons like i.was 10 years ago . Very impressed .after three rounds i dropped 10 strokes.really upped the confidense level and made my much more enjoyable.thank you pinemeadow.I bought the command q hybrids with 3,4,5 hybrid irons. Cannot say enough about fit and finish.above my expectations and saved a lot of money over what i was considering purchasing.again, thanm you andi will be back. Bob,62 year old high handicapper coming back down thanksto pinemeadow.
Roger D.

rated this product on

01/01/13

It has taken me a few weeks to get used to the added shaft length that I ordered for the irons, but I am starting to hit really great shots with them. I had seven pars and a birdie yesterday, and five pars and a birdie today. I am getting about a half-club length extra distance with each iron. The wedges are playing great, and even my sand shots have improved. I just have to get more consistent with the 3- and 4-irons. Now if I could only putt, I might break 80 some day.
---