Command W7G Irons
$139.95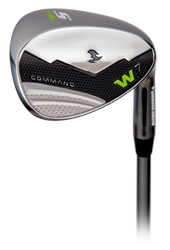 The Command W7 irons are the ultimate game improvement irons. The wide sole and cavity back iron provide the forgivenesss your looking for in your irons. All the irons feature a deep cavity, lower center of gravity and lower back weight.
A deep cavity, low center of gravity and lower back weight, increase moment of inertia (MOI). A higher MOI reduces twisting of the face on miss hits resulting in a straighter shot. You will instantly notice better results in the accuracy of your iron play due to the fact that there is more room for error.
Set also features an option to add a thin lined SW wedge (pictured to the right) perfect for chipping around the green and shots from the sand.
Put a set into your bag that will improve your game the instant they arrive on your doorstep.. Also, the iron set is available in a 5-PW and SW. This allows you to add hybrids of your choice to replace the harder to hit the 3 and 4 irons.
More Command W7G Golf Clubs
&nbsp
&nbsp
Built standard with high quality Pinemeadow steel shaft from Apollo®, a 125 gram shaft with a low to mid kick point.
Also available with our standard low-torque Pinemeadow Limited graphite shaft for only $7.50 per shaft.
Set is standard 5-PW for $139.95; SW available for $24.95 each.
Showing reviews 1 through 2 of 2
Art M

rated this product on

12/21/13

These are my first set of irons. I bought these irons in October and wanted to play a while before reviewing. The value is very good. I do not suspect my play would have improved any quicker with any other set. Even with lofts not as high per club as many of the irons on the market, distance is never an issue. I am now shooting 90 pretty consistently. The w7s are no more thick on top or bottom than other sgi clubs. Clean contact feel really sweet. I would have rated 5 star but I am not fond of the 9 and sw. To me, at 6'2" they could use +2 lie. Overall a good set of irons for high cappers. ps. the hybrid 3 and 4 feel really nice and are super strikers. I find the w72g driver useless
B.P

rated this product on

12/20/13

Purchased these clubs about two weeks the second time i played with them finally shot under 100.I've only been playing golf for 4 months.I recommend these clubs for all beginners
---