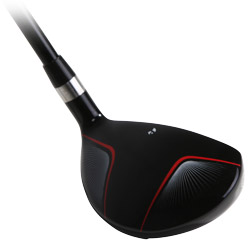 Replace your lower irons with hybrids. In case you didn't hear us the first time, we'll say it again: replace your lower irons with hybrids. If you are like most players you are probably struggling to hit your 3, 4 and 5 irons consistently. If you haven't upgraded your clubs in awhile you are probably not aware of the benefits of hybrids. Join the hybrid revolution and sub out the 3, 4 and 5 irons with hybrids. The PRE hybrids are a perfect fit to do so.
The PRE hybrids provide a versatile option for improved play from anywhere on the course. They feature a low profile club face and a single weight port in the rear of the club that allows you to generate a higher launch without having to sacrifice distance.
The shape of the club head and sole allow you to use the club at anytime. Whether you are using it off the tee or fairway the spring like feel at impact gives you the feel and confidence needed on shots that can be difficult with a lower iron. Even out of the rough the club is designed so it does not get caught up in the longer grass assuring a solid and straight shot to the green.
The Pre Hybrids are equipped with a custom headcover (pictured below). Clubs are built at men's standard length and regular flex which suits most players.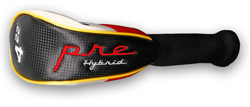 Pre-Assembled with a low-torque Pinemeadow Pre hybrid graphite shaft and standard grip.
All clubs built at Men's Std Length
Includes custom headcovers for all clubs
| Club | 3 | 4 | 5 |
| --- | --- | --- | --- |
| Loft | 19* | 22* | 25* |
| Lie | 60.5* | 61* | 61.5* |
| Weight | 238g | 243g | 248g |
| Face Angle | 0 | 0 | 0 |
| Volume | 116cc | 116cc | 110cc |
| Men's Std Length | 40.5" | 40" | 39.5" |
Showing reviews 1 through 5 of 13
Dan

rated this product on

10/07/13

I have owned both the 3 and 4 Pre hybrids now for over a year. Fantastic clubs, can work both any way I want, distance is consistent. Cannot lose with these clubs.
Corey

rated this product on

07/20/13

I won the Pre 4 of their Facebook page. I've only used it on the course on only two holes so far but it hits solid and it hits easy. The weight is perfect for me and both shots I hit were beauties that drew compliments from playing partners. Aside from the way it plays, the club is gorgeous.
Clay

rated this product on

07/19/13

Very impressed with the quality! Has a very solid hit and the shaft even though it is a regular flex feels more like a stiff. Hit the ball straight it will easily go 200-225 !!! For the price and quality you can not go wrong. Love Pinemeadow will be buying more stuff from them for sure!
Brian

rated this product on

07/11/13

Picked up a 4 hybrid over the holiday last week and, while only getting to play one round with it so far (Highland Park in Birmingham, AL), found it to be a nice addition to the bag. As someone who struggles with his 3 and 4 irons, the 4 hybrid was a nice change of pace. The loft is spot on, and I was surprised by how easily hittable it was from a couple of seriously crummy lies...and hitting uphill. I've read the reviews that all say essentially the same thing as what I just wrote, but always took them with a grain of salt. Now that the Pre is in my bag, I'll happily recommend it to everyone without hesitation. It's the first Pinemeadow club I've owned, but the quality is great! All components seem to be well-made; even the Pinemeadow grip. If you can snag one of these on sale, go for it. Off sale, you should still do it! Solidly built club at a solid price, and fits right in, distance-wise, between my fairway woods and 5 iron. I might add a 3 hybrid, but I'm not sure if the yardage differentiation is enough for me to do it just yet. So yeah, buy the darn club.
Ricky

rated this product on

03/10/13

I bought the 3 pre hybrid 3 years ago when I first started playing golf. It immediately became my go to club for my second shot because I usually duffed my drive. Once I learned to hit it good I retired my r11 driver. On I good day I hit this club 250 off the tee. Not bad for a hybrid that cost half that of name brand clubs. I had a bad round recently and "accidently" threw it in the water so now I'm back to buy another one. Couldn't imagine replacing it with any other hybrid!!!
---