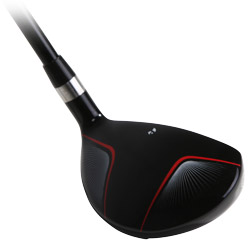 Replace your lower irons with hybrids. In case you didn't hear us the first time, we'll say it again: replace your lower irons with hybrids. If you are like most players you are probably struggling to hit your 3, 4 and 5 irons consistently. If you haven't upgraded your clubs in awhile you are probably not aware of the benefits of hybrids. Join the hybrid revolution and sub out the 3, 4 and 5 irons with hybrids. The PRE hybrids are a perfect fit to do so.
The PRE hybrids provide a versatile option for improved play from anywhere on the course. They feature a low profile club face and a single weight port in the rear of the club that allows you to generate a higher launch without having to sacrifice distance.
The shape of the club head and sole allow you to use the club at anytime. Whether you are using it off the tee or fairway the spring like feel at impact gives you the feel and confidence needed on shots that can be difficult with a lower iron. Even out of the rough the club is designed so it does not get caught up in the longer grass assuring a solid and straight shot to the green.
The Pre Hybrids are equipped with a custom headcover (pictured below). Clubs are built at men's standard length and regular flex which suits most players.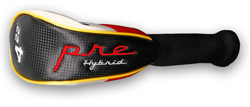 Pre-Assembled with a low-torque Pinemeadow Pre hybrid graphite shaft and standard grip.
All clubs built at Men's Std Length
Includes custom headcovers for all clubs
| Club | 3 | 4 | 5 |
| --- | --- | --- | --- |
| Loft | 19* | 22* | 25* |
| Lie | 60.5* | 61* | 61.5* |
| Weight | 238g | 243g | 248g |
| Face Angle | 0 | 0 | 0 |
| Volume | 116cc | 116cc | 110cc |
| Men's Std Length | 40.5" | 40" | 39.5" |
Showing reviews 1 through 5 of 9
Ricky

rated this product on

03/10/13

I bought the 3 pre hybrid 3 years ago when I first started playing golf. It immediately became my go to club for my second shot because I usually duffed my drive. Once I learned to hit it good I retired my r11 driver. On I good day I hit this club 250 off the tee. Not bad for a hybrid that cost half that of name brand clubs. I had a bad round recently and "accidently" threw it in the water so now I'm back to buy another one. Couldn't imagine replacing it with any other hybrid!!!
Zane G

rated this product on

06/11/12

I have the 5 hybrid and I just cant say enough about it. This club feels better to me than my Taylormade Superfast 4 hybrid. And for the difference in price there is no comparison. My bag may soon have all Pinemeadow hybrids in it!
Jim in Indiana

said the following about this product on

03/29/12

Very nice and solid club. Hits like a dream over and over. Glad I purchased!
Keith

rated this product on

06/15/11

I can't hit long irons to save my life. Buddy of mine has a Taylormade Rescue and suggested that I also try a hybrid. Since I didn't want to spend $100 on something I wasn't sure I would like, I decided to go with the Pinemeadow Pre 3h. All I can say is Wow!! I can easily get it 215+ yds out there with a nice high flight path. I like this club so much, I don't feel the need to "upgrade" to a name-brand club. I'm extremely happy and confident with it!
Eric Leary

rated this product on

06/13/11

Oh my God.... I can hit a 3 iron! These clubs are awesome. Should have bought them years ago!!!!
---