Courier Stand Golf Bags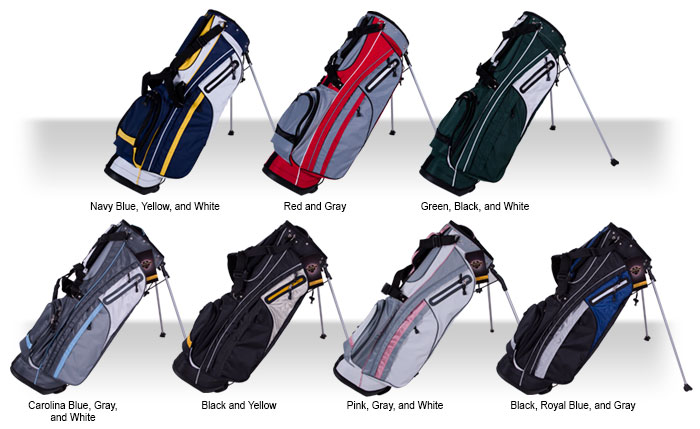 Lightweight 5.3 lbs.
Seven easy access pockets
Dual strap system
Wide shoulder straps
Velour-lined valuables pocket
Micro mesh top
Five-way club divider
Integrated kick stand
Insulated beverage pocket
Quick access protective rain cover for clubs
Custom back panel for total comfort on the course
Umbrella loop
Displaying reviews 1 - 5 of 6 in total
stan reviewed this product on 10/19/15 To all you people crabbing about how many dividers this bag has. It clearly listed the number of dividers in the discription section. All of you must have known how many dividers the bag had when you ordered it. Give us a break and tell us how the zippers and etc held up.
Kurtis rated this product

on 01/06/14 This bag is awesome. Looks great and has everything you really need. I bought the Navy Blue, Yellow, and White one on sale for $35 roughly on sale. How could you go wrong? I have no problem with the 5 divider system. I'll update on its longevity once the bag is a bit more used. So far so good, thumbs up Pinemeadow.
Ryan rated this product

on 05/20/13 Great bag. Ordered to match the Command Q Ti... which it does (Yellow one). Has lots of pockets and storage, can hold 12 cans in one of the side storage areas. The only thing I would change would be to increase the number of club dividers. Has 5 slots I believe. By the way, I have no problem carrying it by the handle or backpack straps as noted in other review.
Jason Y. rated this product

on 03/30/12 Ordered this bag to match my Excel Monterossa complete set I picked up sale. Hate not having my clubs and bag match so thank you Pinemeadow for making this carry bag in black and yellow. So far so good with all my products!
Billy rated this product

on 07/20/11 I'm simply reviewing because I've owned the bag all summer and have a different opinion than the only other review on this site. For my uses, the bag has plenty of pocket room and I haven't had any problems with my clubs falling out - even though I've carried it by handle and by shoulder straps. I dislike the low number of club dividers but otherwise I'm very satisfied with this bag. I especially appreciate how lightweight the bag is, and I'll be ordering one for my wife's clubs too.
Displaying reviews 1 - 5 of 6 in total